AXLE SPARES

Servicing both Original Equipment Manufacturers and the Dealer / End user markets with products from our own "stable" or from other manufacturers, we are able to satisfy customer's requirements, be they parts for machines in production or spares for machinery already in work.

Hunton Legg Owned Brands
HUNTON, AVON / HSW / WKN, UNDERGEAR RBP.








Machinery manufacturers

Hunton, Avon / HSW/ WKN & Undergear Axles are now owned and manufactured by Hunton Legg, who supply both new equipment and spare parts for same. These have been used by a wide range of leading UK Manufacturers of agricultural machinery, particularly in the trailer field. These include the following makes:-

A S Marston, Griffiths, Collins, Fraser, Marshall, R Western, Salop, Pettit, Weeks, Wheatley, Ken Wootton, Warwick, Teagle, Tye, Gull, Foster, ETC-Mil, and many more regional manufacturers.

Companies manufacturing other types of agricultural equipment include:-

Econ, Netago Reekie, Dowdeswell, Harry West. Tong, D W Thomas, Allman, Fiat/Hesston, Kverneland/Kidd, Massey Ferguson, Vicon/Greenland, Simba, Cousins, Parmiter, Shelbourne Reynolds, Garfords, Hillam, Land Drive and many others.

Industrial O E M's who have also used these products include the following:-

Hayters, Benfords, Finlay / Powerscreen, T B F Thompson, S E B Trailers, Winget, Smalley Excavators, Bunce, Handling Aids, to list but a few.



Salati Axles




Following the appointment in 1999 as the "Sole" UK and Eire Distributors for the "Salati" brand of axle spares, we are able to supply component spare parts to fit machinery manufactured by the likes of:-

Abbey, Redrock, Star, Econ Eng, Hi-Spec Eng, Knight Fm Mach, Keenan, VHS, NC Eng, Norton Trailers, Ruscon Eng, Netago Reekie, Shelbourne Reynolds, Tanco, Viper Int, Wootton Trailers, Dragon Trailers, Allan Fuller, McCauleys, etc
.



Axles Spares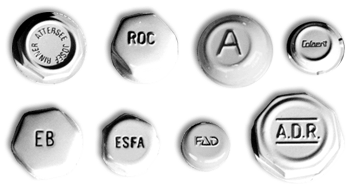 To suit not only our own in house brands but parts for other manufacturer's axle equipment. This includes Hubs, seals, bearings, studs, nuts, hub caps, brakes, Etc.
High Speed Axles and Equipment

Some spares available for:-
Avonride, Peak, Knott, Bradley, Axles of Watford, Hunton and Undergear.









Stock items include: High Speed Over-run Hitches (to 3500kg), both 50mm and Eye couplings; Jockey Wheels; Mudguards; etc. Commercial Axle products We also carry spares for certain Highway Axle manufacturers, whose products are used in agricultural and industrial applications